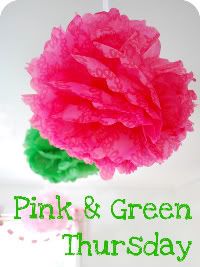 Let's play again Pink and Green Thursday with

Trish

!
Today my inspiration comes from a dear friend of mine. She recently had her first baby girl (cute as a button) and decorated the nursery using these two colors. She actually likes the brighter version of those colors so she used hot pink and lime.
Today my blog entry is dedicated to my wonderful friend Vane!
I saved the best for last (at least in my opinion). I like the softer tones (muted as my friend calls it). Around six months ago I saw this set and fell in love! My dream is to have a baby girl, I am convinced that I will and so is my hubby by now, so the day I have Isabella (yes that is going to be her name) this is going to be her bedding set -if they still make it of course- in her shabby chic room.