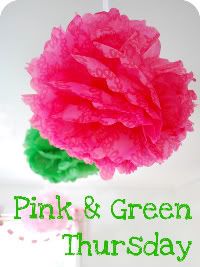 This is the first time I'm going to participate in "Pink and Green Thursday" hosted by Trish

(
http://www.pinkpreppylillylover.blogspot.com/
). Seeing

all her pictures I feel like a little girl in a candy store. After all, what are pictures of pink and green things for a girly girl? It's eye candy!
Today I'm going to keep it simple. Today, I'm concentrating on just flower arrangements and table settings. Now that the spring is here, we all need a little inspiration for those girl afternoons and little parties here and there.
Hope you enjoy it!
This one minus the eggs...beautiful for next Easter though!